Since I have installed my blacksmith shop indoors, there has been a 4x4 post in the way. We couldn't just cut it out because it was a load-bearing post....we take it out and my side of the barn collapses.
However, everytime I turned around, the post was in the way again. (Some of my witty, smart allek readers would say "well don't turn all the way around.")
Anyway, dad and I decided to take the post out and put a beam in.
In order to do this we had to first brace the ceiling and roof. We used two 6x6 posts to do this. Then we made the beam. The beam is made from two, 2 inch, by 12 inch, by 16 feet long boards. A 1/2" piece of plywood was placed between these two boards to make up the width that I needed. What we ended up with is a 16-foot-long beam, 12-inches wide, and 3 1/2 inches thick. That is a very large very heavy beam. After supporting the roof weight and removing the old 4x4 post, we installed the beam. The whole process took over half a day and six attempts before we got the beam in. However, now the post is gone, the beam is in, and as of right now, the barn is still standing!
This shows the beam in place and also shows the two 6x6 posts on either side supporting the roof weight!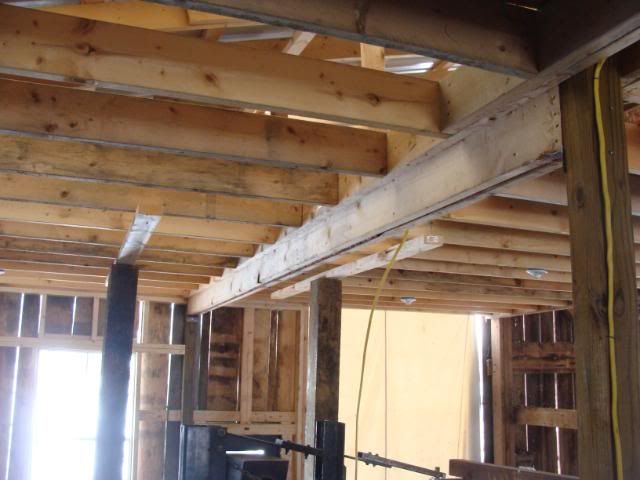 Here is a general overview of my shop!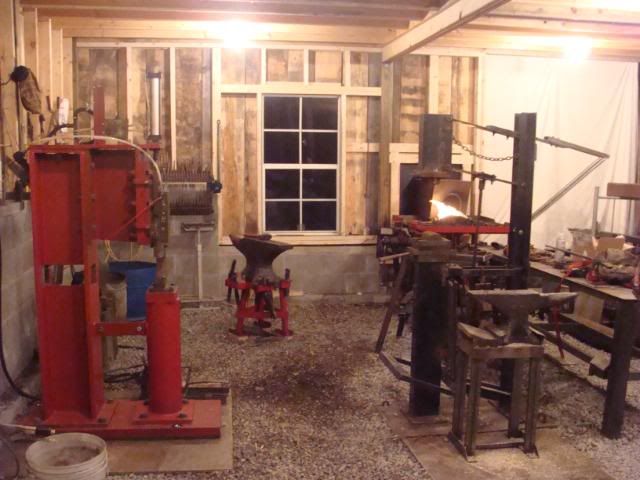 For those of you who had a hard time identifying the last picture on my last blog ......that is a picture of my big shop anvil! ;)