I made a jig or form for making my dinner bells on today!
It clamps in the vice and bends the triangle dinner bells cold. It saves me time because I don't have to heat the bells upto bend them!
Here are some pictures!
This is the triangle jig!
This is how the dinner bell stays in place while it is being bent!
This is the tool that is doing the bending! It is made from 1-inch solid round stock and the handle is 2 feet long.
This is a dinner bell in the jig about to be bent!
A hole in the handle for hanging the tool! Not exactly dead center!
Sort of switching gears here, I am getting ready for craft fair season and one of the things I am doing is the "Welcome" signs from horseshoes. I spent some of today working on getting some of the shoes straightened out for the "L's" and some bent around for the "O's." Then I matched the shoes up so that each sign looks proportional in its letter sizes.
Here are the shoes organized by letters.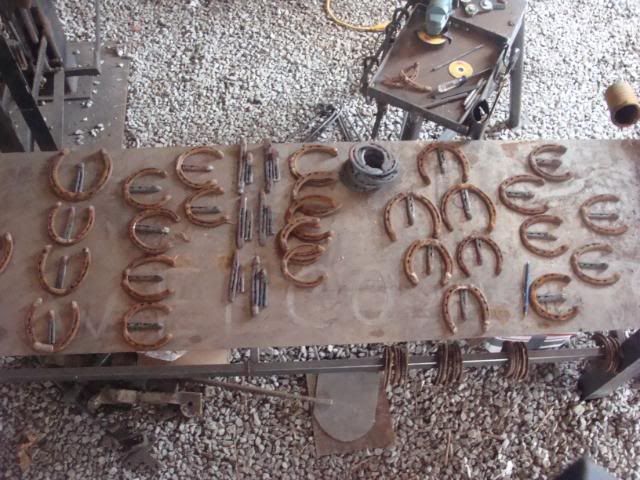 Here they are sorted out!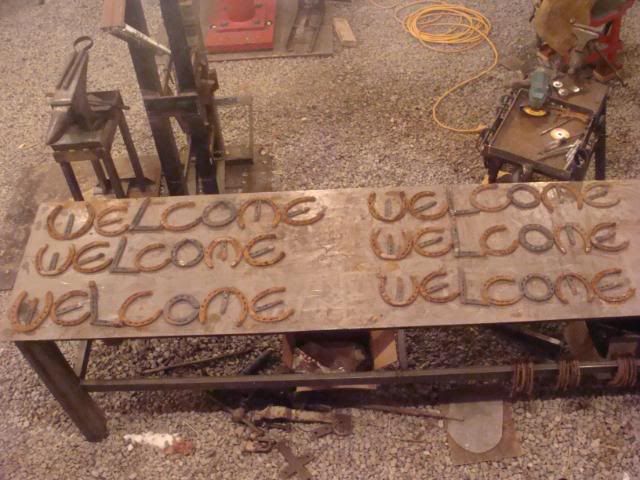 Now each shoe has to be cleaned on the wire wheel and then the entire sign has to be welded together. These are not traditional pieces, so the electric wire welder will be used instead of traditional forge welding.
It's early to bed and early to rise for another day in the shop tomorrow. Tomorrow should see the "welcome" signs done, and hopefully four crosses as well.
All only if and as the Lord wills!
G'Night, God rest ye well, and may ye all have a "blissful time!" ;)