Over the past week or so, there have been several new and exciting additions to the Fiery Furnace Forge studio!
First, and of greatest importance, is a set of cutting torch tanks. (Oxygen / Acetylene fuel.) I traded my old welding table for a cutting torch. However, without the tanks it was useless. I've been looking on craigslist for tanks but there are a trillion regulations that make it difficult to purchase used tanks. New tanks are CRAZY expensive! Seemingly by chance, but actually by the divine hand of God, I happened across a set of tanks with a carrying cart for about an eighth of what I could have bought them for new. Plus the tanks I got, are about three times as large as the ones I could have bought. I am in the process of getting the tanks filled. The Acetylene tank has been filled, but I'm still waiting on the Oxygen.
Here is the Acetylene tank on the cart with the torch.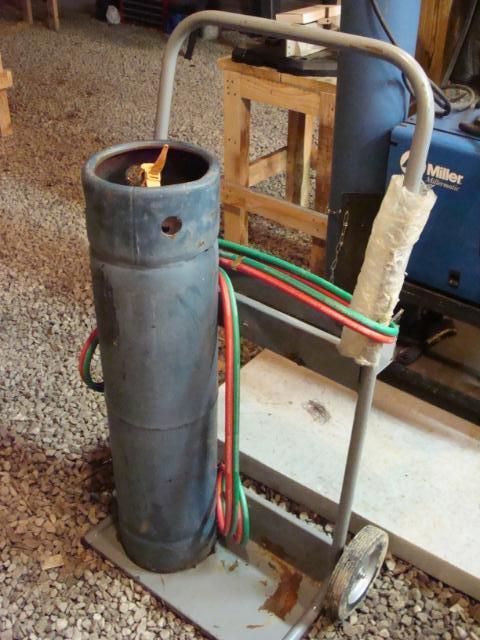 The next addition was an idea I had sometime ago. My work tables have been covered with a lot of STUFF that needed a storage place. I really don't have the money to go buy a huge $800 tool box. I took the two old tool boxes off of my old blacksmith demo trailer. After extensive modification I have a rather ugly but very serviceable storage box for flamables, extra supplies, safety equipment, and tools that need extra protection. The boxes now measure 36-inches wide by 30-inches tall. The overall height is 54-inches. The modifications cost me a total of about $20 plus a day of work!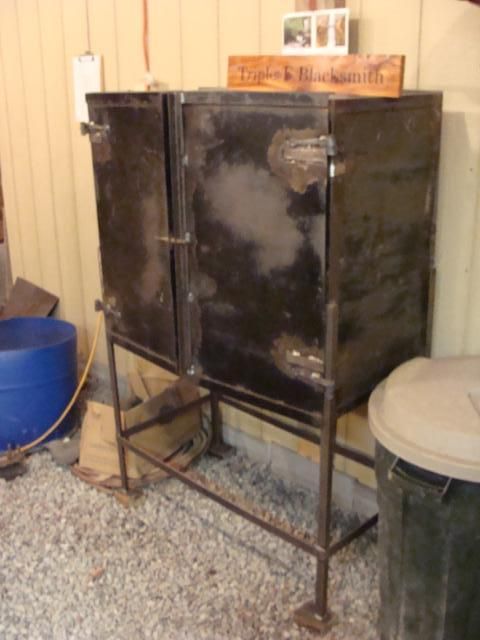 The old hinges were very poorly made so I made new ones that are much better.
I attached a lip to the doors so that they can be latched and to make it easier to open and close them.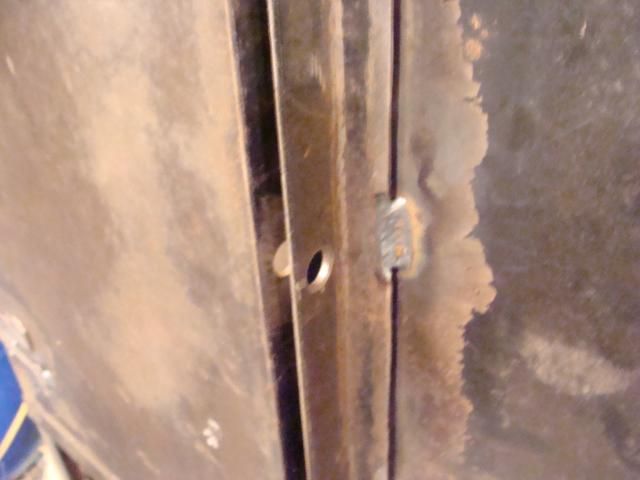 And the inside! Uhhh Yeah I already need a bigger one! :)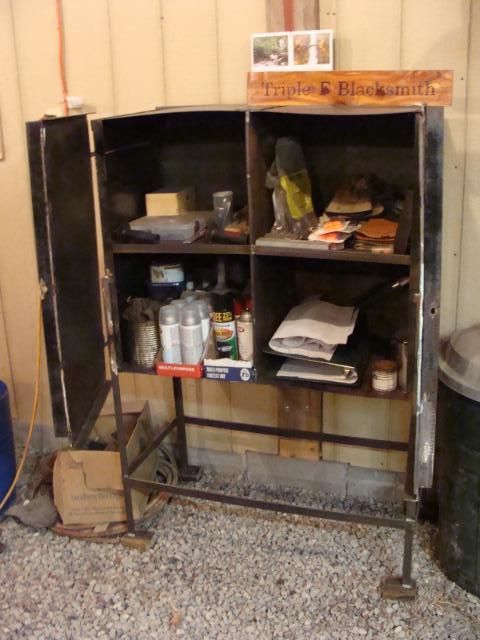 The next addition is a new vise mount. I began by putting a piece of 6-inch pipe, 2-feet into the ground and pouring concrete around it. I had to dig out three wheel barrel loads of dirt for the hole. The vise will be mounted to a 5-inch pipe that will slide into the 6-inch one. I'm waiting on the concrete to cure! The lights are to keep the damp concrete from freezing. (Yes I ran out of concrete!)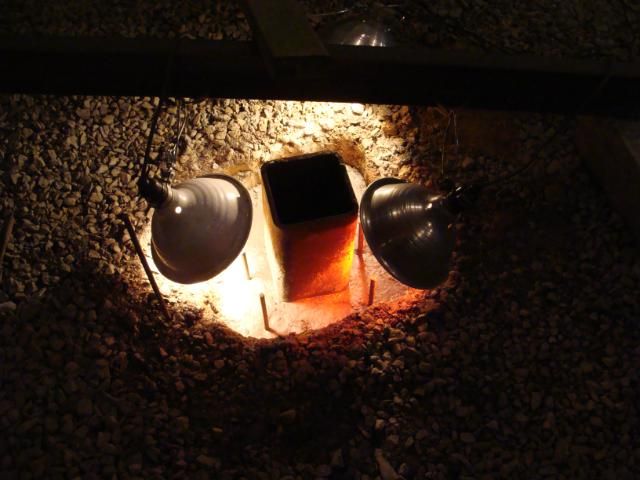 The last addition is two, badly needed tool stands. Right now I'm constantly dropping tools, knocking them off, or having to find them because they aren't in the place I need them to be. Tool stands can be placed next to the work area, the lip on them keeps things from being knocked off, and overall they inrease efficiency. My tool stands are 19-inches in diameter, 24-inches tall, and will have pipe holders for different types of tools and hammers. I'm not quite finished with them yet, but I am close!